The palm tree: a plant with many uses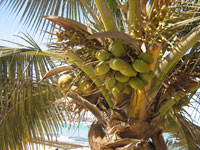 © Roch Fortune
A coconut palm
For those of us who live in northern climates, palm trees evoke the easy life, relaxation, warm beaches and tropical sunshine. But those who live further south, surrounded by palm trees, see them with a more pragmatic eye, in terms of the employment and necessities of life that they can provide. In fact, palm trees are among the most beneficial plants in tropical countries, because of their wide geographical distribution and many uses.
Let's travel to a warm region, with a rich variety of palm trees. For example, Madagascar, that marvelous island located along the east coast of Africa. We are in a small village on the edge of the tropical forest, on the peninsula of Masaola, a north-eastern region known for its diverse species of palm trees (over 50 have been identified there). We will follow Rabé, a farmer who lives with his wife, Rasoa, and two sons, Jao and Koto, aged 14 and 15. Rabé engages in subsistence farming. He especially relies on the palm trees native to his region, using their parts in various ways, whether it is as material from which to construct different objects or as a source of food.
Rabé, his two sons and his wife make baskets, carpets, decorative panels and hats, for their own use or to sell to merchants. They create handmade objects by braiding raffia, a tough fiber that comes from the Raffia palm,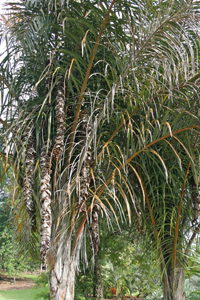 © Tony Rodd
A Raffia palm (Raphia farinifera)
or from the fibers of several other types of palm.
Rabé also uses the large leaves and stem (stipe) of palms as construction material. With the dried leaves, he makes thatched roofs. He trims the stipe into boards, to make the walls and floors of houses. By hollowing out longs strips of stipe, he can also make irrigation pipes for rice fields (the most commonly cultivated cereal in Masoala), a crop which require a great deal of water.
Palm trees help feed Rabé's family. His sons climb coconut trees to pick the well-known coconut, but they also harvest and eat the fruit of Raffia and other palms. In addition to fruit and seeds, some species have an edible center: the bud, at the very tip of the stipe. The white meat of the palm heart, both firm and tender, is delicious. Rabé's children really enjoy this treat. Oil palms, cultivated on vast plantations on the eastern part of the island, also yield palm oil, which is commonly used in African cooking.
Some species are traditionally acknowledged to possess therapeutic virtues. When Rabé's children have a cough, their mother gives them the heart of the Vonitra palm.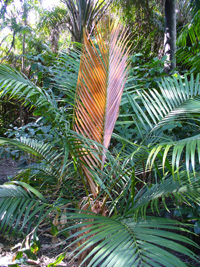 © Scott Zona
A Vonitra palm (Dypsis crinita)
They also drink concoctions prepared from the leaves of the Tsiriki palm, to aid their recovery after an illness.
Palm trees are an integral part of Rabé's family life. They are essential to their survival. However, the privileged link that exists between palm trees and a traditional family like Rabé's is beginning to deteriorate in Madagascar, much as in other developing tropical countries. In order to decorate malls and other public places in northern countries, not only are adult palms uprooted from this island, but seeds and young palm trees are often extensively and illegally harvested from their natural environment as well. This abusive, rash exploitation, aggravated by savage deforestation for slash and burn agriculture, threatens the survival of most indigenous palm trees in Madagascar. They are even found on the Red List of Threatened Species produced by the International Union for Conservation of Nature (NGO dedicated to nature conservation.) (IUCN).
In order to preserve a harmonious relationship between humans and palm trees, the Malagasy must find ways of ensuring balanced use of this plant resource, which has given them so much and which could still contribute to the development of their society, thanks to its versatility and great biological diversity.

Text by Elie Raherison, doctoral student in forestry, Université Laval (CEF).